Kim Marchesseault - Artist Statement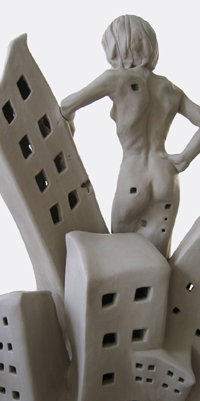 My work is celebration, revelation and at times a rebellion.

I don't want you to lose yourself in my art. I want you to find yourself. I want you to think.

My sculpture is philosophical. It is about the struggle to discover what is true, right and good in this world and also what is wrong, what is false. It is about relationships among people, with self, with the universe. It is about the successes and failures in dealing with adversity.

Its a study of why we are here, what makes us who we are and how we affect everything and everyone around us.

I play with shapes and lines until they meld with each other in a soothing, meaningful way.

The piece called "The Pawn" represents being in situations that are beyond our control. Her eyes are closed. She has no arms, no hands to fix things with. The woman who modeled for us was crying the last night I worked on this piece because her cat was dying of a terrible illness. I thought if I made a change to the sculpture, she wouldn't have to be sad so I divided her hair/head into three parts. I believe this represents dissociation -- the thing we use to get us through the crisis. It is the separation of intellect from emotion and physical pain.

"The Truth" is the most philosophically universal piece of art I have ever made. A lot of what happens in my work is intuitive. I usually experience things in my life that I see echoed throughout the universe on many different levels. Truth is elusive and I believe absolute truth is perfection of knowledge, which we as human beings cannot ever achieve full understanding of. In this sculpture, a nude man looks at his closed hand. He believes he's holding the truth in his hand, but has he ever really seen it before? Is he hiding it? Preserving it? Protecting someone from it? Will he destroy it? Is he actually grasping the real truth? Or is it in his other hand? (the one behind him). It's always a challenge to separate popular opinion -- what people in control want us to believe and what we want to believe -- from what is actually true.

In "Letting in the Light", pictured above, a woman stands nude in a city scape with windows cut through her body while she tears a hole in a building next to her. She exposes, reveals, demands the truth; She rips away the facade -- removes the minimalization; eliminates wrongful justification; peels away the denial -- faces things head on.

"A New Direction" represents choosing a new path. A nude woman standing with a banner held up in the air, the wind blowing it in a direction. It took me a long time to finish this one. I didn't think I was a good enough sculptor to complete it. Here she choses a new path, realizing what is and what is not a true obstacle.
Resume
Education
University of North Texas, Bachelor's Degree
Art Major Studies, Plano Senior High, 1984
Lee Akins, Collin County Community College-Ceramics 101, 1987
Blaine Avery, Jordan Hall Arts Center-Pottery Foundations, 1999
Phil Teefy, Hot Glass Horizons-Kiln Casting, lost wax casting, April 2005
Mila Holy, NC State Craft Center-Beginning Wheel, 2006
Conrad Weiser, NC State Craft Center-Raku, 2006
Jock Gault, NC State Craft Center-Figure Sculpting, 2006
James Fatata, Litmus Gallery and Studio-Figure Sculpting, 2006
Kevin Eichner, Central Carolina Community College – Bronze Casting 2007
Honors/Awards/Grants
Cary Visual Art, Inc. Take a Seat 2007 –Second Place for a piece called "Wish Granted"
Professional Affiliations
Tri-State Sculptors 2006-present
Raleigh Sculpture Group 2006-present
Durham Art Guild 2007-present
Cary Visual Art 2007-present

Instructor, Jordan Hall Art Center 2002 -present
Muralist, Cinelli's Restaurant, Swift Avenue, Durham 2007
Exhibitions
Exposed: Nudes in art 2007; Litmus Gallery Juried Show

53rd Annual Juried Art Show, Durham Art Guild 2007

Cary Visual Art, Inc.

Take a Seat 2007 –Second Place - "Wish Granted"
Arts Council of Wayne County 28th Annual National Juried Fine Art Exhibition 2007

"The Truth"

Juried in.
Jordan Hall Art Center Instructor's Show 2003, 2004, 2005, 2006, 2007
Litmus Gallery

Exposed: Nudes in Art 2006

"Why"

Juried in
Installations
Cinelli's Italian Restaurant, Swift Avenue, Durham, NC 2007 –Clouds on ceiling mural